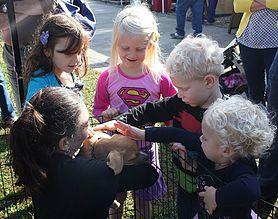 We could not exist without help from volunteers. As a volunteer, you help the animals in our program find their forever homes in whatever area suits you best. Great at graphic design? We need you! Love interacting with people and talking about animals? You'll fit right in! Whatever your strengths, Dogs In Need Organization can put them to use. Please submit an application today and help us save lives!
Volunteer opportunities are continually changing as we grow and new opportunities arise. Below is a listing of current opportunities, but if you are interested in helping in other ways, please let us know. We would love to have your help and new ideas!
Adoptions
Assist adoptions by introducing our pets to the public and answering questions about our awesome adoptables. Facilitate meet and greets with potential adopters. Provide follow up after adoption to answer any questions or address concerns.
Adoption Events
Promote our mission and recruit volunteers, fosters, adopters, and donors at special events in our area. Talk about our great pets available for adoption and tell our community about Dogs In Need Organization. Hang out with our available pets to help them find their forever families!
Animal Marketing
Help our animals get adopted by marketing them! This team photographs the animals for the website, gathers information about the dogs and cats, and/or writes bios for RescueMe. Sharing our pets on your social media pages is a great way to get our pets seen and adopted. Are you great with words or photographs? We need you!
Behavior Assistance
Work on basic obedience (or more) to help some of our more challenging pets find their forever homes. Some pets just need a little more guidance before they are ready to go. We are big advocates for professional training, and love to work towards great behavior with our dogs.
Development
We rely on donations from corporations and the public. This committee assists with business sponsors, event-sponsors, grant-writing, and helping us let our donors know how much we appreciate them. Are you outgoing or great at persuasion? We need your help to increase our reach by contacting businesses for events, donations or sponsorships.
Foster
Provide a safe place to hang out for cats or dogs in your home until they are adopted. The average time is a few weeks to a few months, but short-term fosters are very helpful too. Dogs In Need Organization covers all vetting expenses and will provide transportation of pets to/from adoption events, as well as meet and greets with potential adopters. If you would like to help save a pet's life, please fill out our Foster Application.
Photography
Take photos of our awesome adoptable animals for marketing on our website and Facebook page in addition to educational, marketing and adoption materials. A single photo can save an animal's life.
Marketing/PR/Graphic Design
Help us spread the word about Dogs In Need Organization and our mission via media, social media, and marketing campaigns.   Create a variety of promotional materials including brochures, ads, posters and flyers. Got ideas? We would love to hear them!
Transport
Transport pets to adoption events, vet visits, grooming, and meet-and-greets.