What is a foster parent?
A pet foster parent provides a safe and loving environment for kittens, puppies, dogs and cats until they are adopted. In addition to affection, the foster parent provides basic care for the animals such as food, water, and shelter. Dogs In Need Organization pays for all vetting and preventatives, and provides crates and other necessities. When fostering a dog, the foster parent teaches basic house manners, such as crate, leash and house training. It is helpful if the foster parent can transport their foster animal to events vet visits or visit potential adopters in their homes, but not required.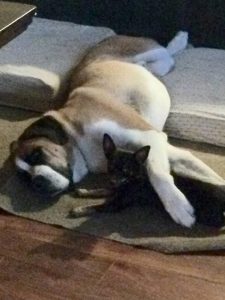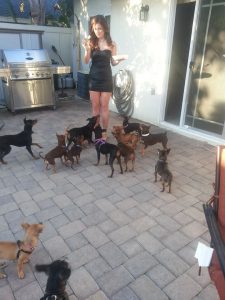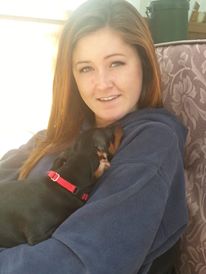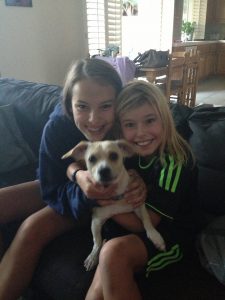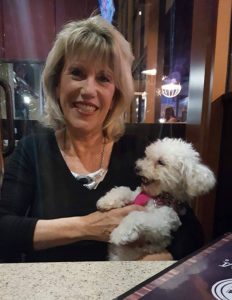 Why are pet foster parents needed?
We can only rescue as many animals as we have room for. Animal shelters euthanize approximately 3.8 million animals annually. Local animal rescue groups have to turn away dozens of adoptable animals each week because they lack foster parents, and shelters don't have infinite space. Not only do foster parents maximize the number of animals rescued, they also help to care for animals that would be difficult to care for in a shelter or kennel environment: puppies and kittens with immune systems not strong enough to fight germs, orphaned puppies and/or feral kittens, animals recovering from illness, medical treatments, surgery, or dogs needing one-on-one behavior rehabilitation or a break from the shelter. There are many pets who will never make it to the 'adoptable' side of the shelter due to fear or anxiety, but once in a foster home, they feel safe and are very different animals. Many shelters aren't equipped to take care of sick/injured animals, or don't have the resources to rehabilitate a fearful one. They are the ones who depend on fosters the most to save their lives!
What are the joys of fostering?
There are many! Click here for 10 great reasons to foster.
Who should foster a pet?
Someone who is not in a position to adopt a pet right now, but has the time to care for one.

Someone who is not sure how a pet would get along with a new cat or dog (great socialization!).

Someone who never had the chance to have a pet but would really like to experience one.

Someone who loves pets and has some room to welcome them while they wait for an adoptive home.
How long is a foster period?
The foster family will usually foster the pet until it is adopted. The length of time varies according to the breed and age of the pet. For example, kittens, puppies, and 'cute scruffies' are often adopted quicker than adults. In some cases, the foster parents decide to adopt the pet themselves. We find that most foster families want to continue fostering the pet (even if it past their original commitment) because they have come to have an established routine with the pet and it is fitting smoothly into their life-style. Plus, they want to be part of the process of finding their forever family . If a foster family runs into personal situations where they can not foster until the pet is adopted, the rescue group will search for another foster home to take the foster. Please remember that in these cases, the rescue groups will need time to do this.
What does it cost to foster a pet?
All veterinary care is paid by Dogs In Need Organization. Some families provide food, puppy pads, toys, treats, and kitty litter, but we will provide whatever you may need.
What kind of support will I get?
Rescue groups value their pet foster parents and therefore make every effort to be available for questions and tips, especially for the first time foster parent. That means the rescue will make sure you have a phone number and other contact information for questions, often times this will be with the Foster Coordinator. Many rescue groups will hook up a new foster parent up with a more experienced foster parent that can be available to come by or you can call with questions. All rescue groups have preferred veterinarians and will tell you what to do in case of a medical emergency.
If I foster a pet, will I be able to take a vacation?
Some potential fosters are afraid that the time commitment to a new animal will complicate already jammed family agendas, including the ability to schedule vacation time. The truth is most organizations have a built-in plan for foster families who need to be out of town, for any reason. "You can pretty much continue your schedule, especially if you already have your own pet, "says Kim Croom, volunteer of the Pet Foster Network." You should never be 'stuck' with a foster, and you will never be alone as a foster parent with Dogs In Need Organization.
Will I get too attached to my foster pet?
Ironically known as "foster failures" in the pet rescue biz, these are animals that started out as fosters and ended up being adopted by their foster family. Adopting your foster can be a hazard of the job, and getting too attached is probably the most cited reason for not wanting to foster. "At some point in the fostering process, you get to the point that you realize you can let go," she kids. Indeed, Ms. Croom describes regular fostering as a happy addiction. "You get excited about the cycle" of saving them, helping them learn to trust, and then finding their forever family. "After a while you get to where you don't feel empty, you just feel full. Fostering and pet rescue is about placing animals. You love 'em enough to let 'em go."
Will I get an animal with behavior issues?
We will not knowingly give you a foster with behavioral issues, but they have been through a lot and need time to decompress. We utilize trainers and behavior modification for animals who need more than the average help, and we are always available (day or night!). Any foster that isn't a good fit, will be moved to a more appropriate foster home as quickly as we can (usually within 24 hours). You will never be 'stuck' with a foster who isn't appropriate for your home with Dogs In Need Organization. We want you to be with us for the long-haul, and we do all we can to make this a positive experience you want to do for a long time!
Will I have a say into who adopts my foster pet?
Yes! We want you to be as much a part of finding their forever home as you want to be. You know your foster better than anyone, and are the best person to judge the 'best fit' for the family and the foster. We have foster parents who handle everything, while others prefer simply to foster. We are happy to have as much or as little involvement as you want to have. We will be with you every step of the way, until you are ready to do things on your own. You choose what you want to be involved with, and at what pace you want to go – there is never any pressure to do more than you want to do.
I already live with a pet. Can I still foster?
Absolutely! Fostering is a great way to socialize your own pets too, and gives them friends to hang out with for a while. We will guide you on how to introduce fosters to the resident pets, and are always available to help with any challenges you may have with the transition. Even people with older dogs and cats find that fostering breathes new energy into their resident pets!
Can I adopt the animal I foster?
Yes. Foster parents who wish to adopt the animal they foster go through the same screening process as adoption applicants, but we do ask that you try to foster two pets successfully before adopting a foster. There are exceptions, but it is normal for the new foster to fall in love with theirs and want to adopt the first one. With time, you learn it is a wonderful thing to love them and let them go, and it does get easier. Letting them go opens up space in your home for another life to be be saved.
Where are the pets that need foster homes?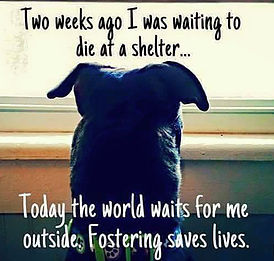 The pets that need foster homes are in local animal shelters, with their rescuers (their 'finder'), or in a volunteer's home that works with a rescue group. The majority of rescue groups do not have facilities where homeless animals live. Without foster homes, these animals have nowhere to stay and will continue to wander the streets, or if they are in a shelter, they will likely have mandated time limits placed on their lives based on space, illness, fear or many other reasons. If not adopted or pulled by a rescue group, they will be euthanized. Many rescue groups pull animals from shelters in order to save them from being euthanized. But in order to do that, volunteers (like you!) are needed to open their homes to these pets until they are adopted.
How can I volunteer to become a pet foster parent?
Click here to submit a foster application!
* Information used in Fostering 101 has been adapted from The Pet Foster Network.