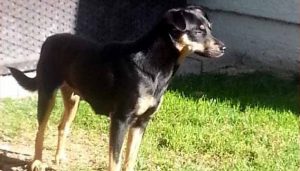 We strive to make our adoption process a fun and enjoyable experience for everyone involved. We pride ourselves on being thorough – without being invasive – to ensure a lifetime of love and companionship. We work very hard to match the pet to the family, as we want this to be forever. The pet you are interested in might not necessarily be the best fit for your family, but we will always do our best to make sure you have all of the information you need to make the best decision. If there are multiple applications for a pet, we will be upfront and let you know. We may have a home visit with more than one family to determine the best fit, but will keep you as informed as we can during the process. We know it isn't easy when another family is chosen; we try very hard to find the right home, and will be sensitive during the process.
---
If you see a pet on our website you think you would like to meet, or meet a pet at an adoption event and are interested in adopting, the first step is to complete an adoption application. We do not allow same-day or on-site adoptions from our events.

Once we have your application, one of our foster coordinators will follow up with you by phone or email. If you have not yet met the pet you're interested in, we will let you know when the next adoption event is so you can meet face-to-face! We will verify the information on your application and arrange a home visit with any other pets and/or family members who live in your home. This is the last step before we match our rescue pet with his or her forever family!

Once a family is selected as the best fit, one of our volunteers will assist in completing paperwork, including the adoption contract and microchip registration. We will also provide you with medical records for your new pet, as well as some additional reference materials to help with the transition into the home. Full payment of adoption fee is required upon taking your new pet home. Check is preferred, but we can accept cash or Paypal payments.

We are committed to helping you every step of the way and are eager to answer any questions you may have before, during, and after adoption. Feel free to contact us anytime with questions, concerns or updates. We love seeing our 'babies' after they leave us, and are happy to help with any questions you may have as your new pet settles in.
Thank you for choosing to adopt your next pet!