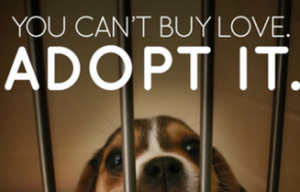 Adoption fees apply. Animals are altered, microchipped and current on vaccines and monthly preventatives before adoption. Pets over eight months of age are heartworm tested and will receive necessary treatment prior to adoption. All pets under four months of age are required to be altered once old enough, which is included in the adoption fee when using a partner vet. Contact us for more information.
Our adoption package includes discounted microchip registration, educational information and coupons/samples (when available).
Additional Fees:
Pet hold is $75 – We will only allow deposits on puppies too young for adoption, and pets must be picked up as soon as they are available. We are unable to hold to allow for vacations, moving, etc.
Refund Policy:
Dogs In Need Organization wants every adoption to be a life-long commitment, however, we understand that a situation may arise where you cannot keep your pet. We offer a refund within 7 days of signing your pet's adoption contract. To receive a refund, you must understand and agree to fully surrender your pet back to Dogs In Need Organization, where they will be placed for adoption. If at any time after the 7 day period you find that you are unable to keep a pet previously adopted by us, please contact us.